(We are delighted to announce that our painting holidays have been covered in an article in the journal
French Entrée.
To read it, please click on the link
https://www.frenchentree.com/featured-community-posts/creative-retreat-in-france/
)



Exclusive, tailor-made Painting Holidays with Rodney Munday


(For Gite Rental only,please see side menu)
We take pride in offering exclusive painting and sketching holidays which are fully flexible and tailored to your individual requirements. Our aim is to welcome you to an inspirational, creative yet relaxing holiday, at the same time giving you a taste of the rich cultural, historic and gastronomic heritage of this beautiful region.
Your base will be situated at an altitude of 800m in the beautiful and tranquil hamlet of Miramont, where the adjoining properties of
Le Pichet
(named after the traditional French wine jug) and
La Carette
form a perfect centre for exploring and painting this idyllic region, or simply relaxing among the magnificent surroundings. Nestling beneath a castle built by Charlemagne, with the pretty hamlet of Arrous in the foreground, it offers stunning views towards the soaring 3000m peaks of the Spanish border. This is unspoilt France at its most authentic.
Our Painting courses
run mainly from March to late June and from September to late November, but other dates are possible. They are ideal for small groups of friends who already know each other and are designed for a maximum of 4 participating artists, but we frequently welcome couples, families, or individuals wishing to come alone.You do not need 4 people in order to book!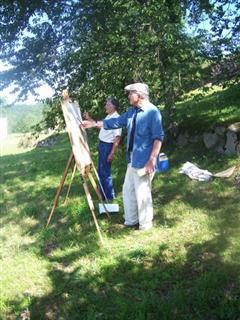 An all inclusive, fully structured 7 night stay includes:
All meals, picnics with and beverages on location and daily transport by 4x4 to a variety of stunning painting locations in the mountains (including, if wished, one painting-free excursion).
Friendly tuition which can be as intrusive or unintrusive as the client wishes, in most media. A full day involves 6 hours of tuition.
We also transport to and from airports (Toulouse, Carcassonne, Lourdes) and stations at a very favourable rate if required.
At the other end of the spectrum you may prefer to rent the gite with other artists or non-artist friends, do your own catering, and decide on a few hours or days tuition either here or on an excursion to one of the many painting locations (for prices see Gite Rental page).
The choice is yours - this is your holiday and our aim is to make it a truly memorable one for you, whatever your aspirations. The options are many - please feel free to contact us to discuss your requirements for an individual quote.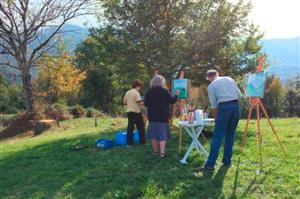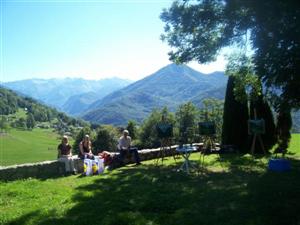 Superb flexibility!
The small size of our groups gives us the flexibility to tailor your stay exactly to your individual requirements.
Freedom of Booking dates
You do not have to book around a pre-designated course or from Saturday - Saturday, rather you can

choose your own preferred dates of arrival and departure from the airport of your choice enabling you to take advantage of cheaper mid-week flights with companies

such as

Ryanair or Easyjet. Your stay can be extended (subject to availability) for further painting or non-painting days.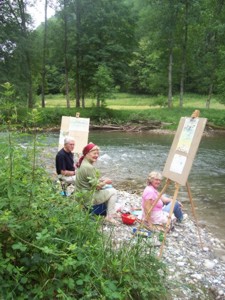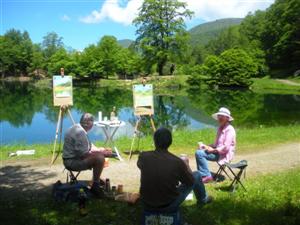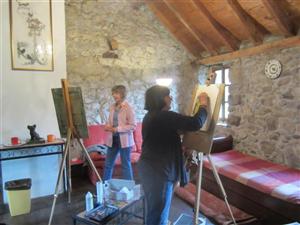 Materials
Since Rodney

is happy to instruct in most media, you can choose the materials for your tuition yourself during your designated dates. You may well have your

own favourite tried and tested equipment to bring, or we can supply materials at cost, which may be of particular interest for beginners. We provide easels and stools. Particular attention is given to the importance of drawing, and we are delighted to encourage those who wish to try new materials.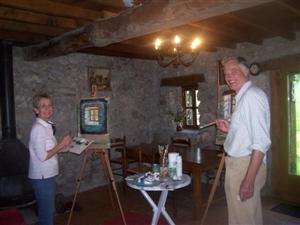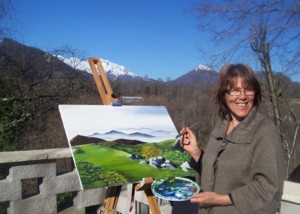 Winter Holidays
If you are hardy enough to want to paint the Pyrenees in snow (whether on location or from photograph at home) we will be delighted to accommodate you. The mountains under snow are superb, and your meals will be served in front of the log-burning stove in
Le Pichet
or the wonderful open heart
of La Carette
.
Ariege is a landscape painter's paradise in all its glorious seasons - whether you wish to paint mountains, lakes and waterfalls, or gentler valleys of woodland and pasture. For those interested in architecture, Gallo-Roman St. Lizier, mediaeval Foix and the villages perched on the slopes of the Bethmale Valley present many possibilities. Or you may prefer to capture the atmosphere of the lively Saturday market at St.Girons - or simply stay and paint in the tranquility of the garden or stone mountain farmhouse where you will be based.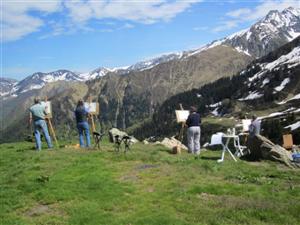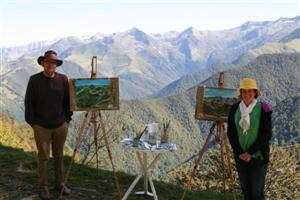 Meals
You do not have to book full-board. One of your party may prefer to cater (for example a non-artist coming with his/her own transport ). Le Pichet has a well equipped kitchen, and Ariege has an immense variety of meats, cheeses, fruit , vegetables and desserts: so cooking here is an experience – and an art - in itself. If you wish to self-cater but do not have the time to shop, we can offer a shopping service for you.
Some comments
"Thank you again for all your kindness and care. We will miss you and we really hope that one day in the future you will be accepting us again for another amazing painting holiday. Until then we will try to keep painting ourselves.
Thanks for everything - the very best wishes."
Gerry and Malissa, Netherlands, October 2012
An artist in the kitchen!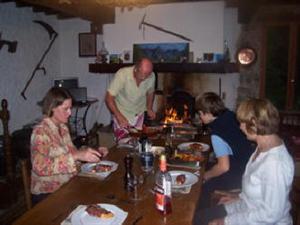 Evening meal cooked by our guests
"This fortnight has not been just about the charm and beauty of "le Pichet" and its surroundings- the marvellous views, walks and delightful evenings spent together-it's also been about the hospitality, kindness and camaderie of two exceptional people, Eleri and Rodney. They have made our holiday memorable. I shall leave Terry to tell of his time painting with Rodney..." Geraldine Stirrat, Richmond. July 2010.
"Geraldine's comments are quite consistent with my feelings also. The two weeks here seem like a chapter rather than the few hurried notes that many holidays seem like. Time spent with Rodney in the mountains, ravines and by the water will be valued for a long time- not just for the encouragement and advice about the drawing and pastelwork we did but also for the companionship and generosity. Special. Many thanks to both." Terry Crimmings, Twickenham, July 2010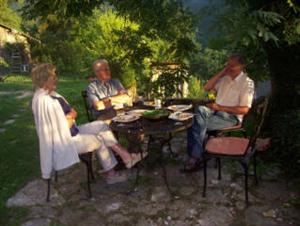 Relaxing in the garden

"Thank you very much for the wonderful week! Everything was spot on!
We feel sad about leaving you after our wonderful stay, but we will remember you as friends.
Le Pichet is a lovely home for a stay in the beautiful French mountains. We have felt welcome here from the moment we arrived."

Home