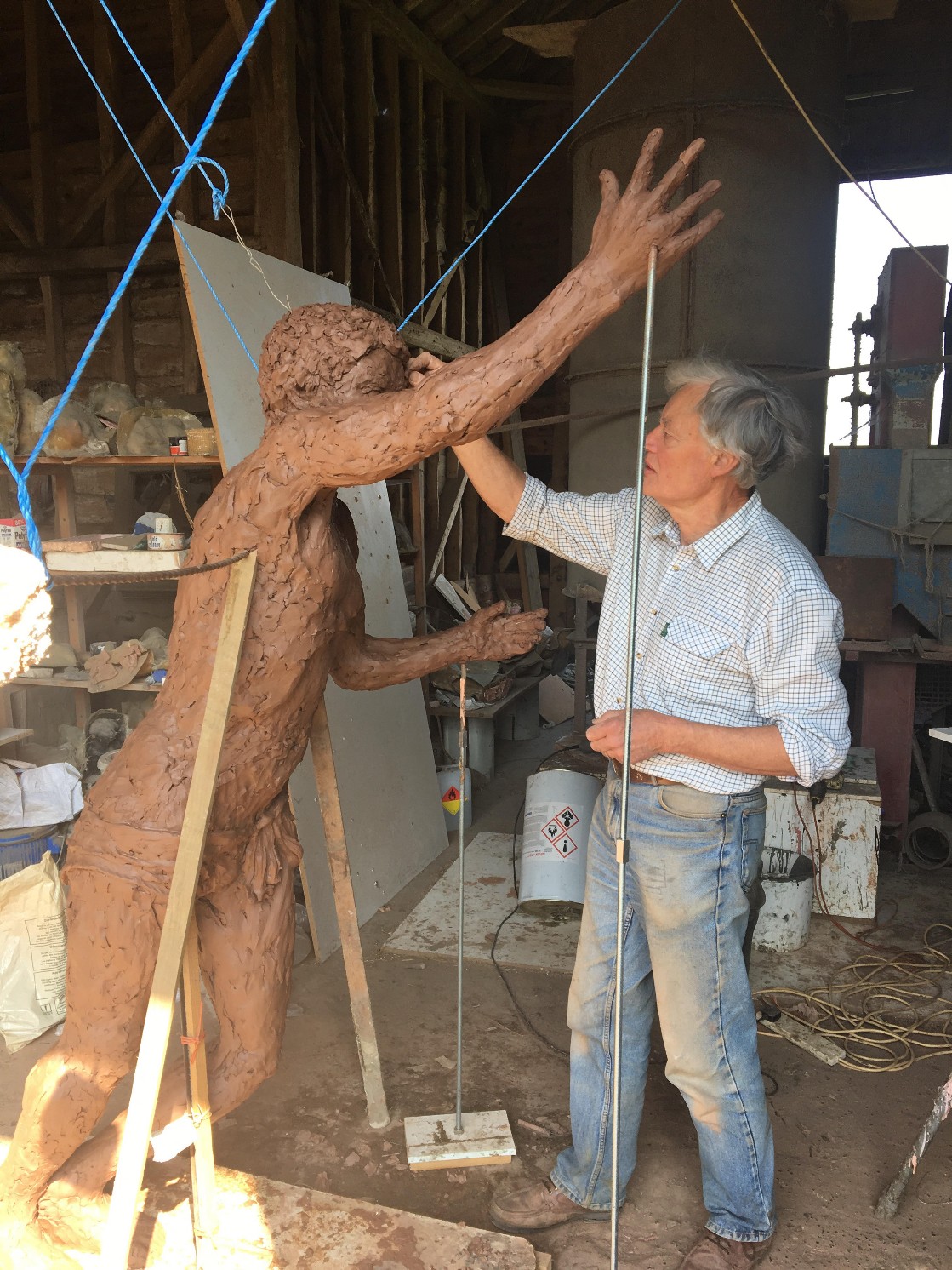 Public / Corporate Commissions
2021 Sculptures for the tower of St. John Baptist church, Cirencester.
2017 St. Andrew the Fisherman. Plymouth Minster.
2016 Richard Hale. Richard Hale School, Hertford.
2015 St. Edmund of Abingdon. Cambridge University.
2013 – 14 The Gift. Chichester and Worthing hospitals.
2013 – 14 Alfred Russel Wallace. Hertford.
2011 St. Edmund of Abingdon. St. Edmund's College, Ware.
2006 - 7 St. Edmund of Abingdon. Oxford University.
2003 - 4 Europa & the Bull. Wyeth Europa Pharmaceuticals, Maidenhead.
2009 St. George & the Dragon. Perth Cathedral, Australia.
2005 Copper wall and doors for the Grand Opera House, Belfast.
2019 Grand Prix du Salon (Sculpture) at the 65th
Salon International
de Pont de Cheruy
2017 Grand Prix de Sculpture at Art-inter's Grand Prix International des Créateurs du Siecle, at the Palais Bondy in Lyon
2017 Invité d'honneur at the Salon International des Arts, Zillisheim
2017 Medal for the sculpture most popular with children at the 23rd Salon D'art du Colombier, St Arnoult-en-Yvelines, France.
2005 Gold Medal for Sculpture at the 11th Salon D'Art du Colombier.
2006 Medal for the sculpture most popular with children at the 12th Salon D'art du Colombier.
2007 Bronze Medal for Sculpture at the 13th Salon D'Art du Colombier.
2010 The Mayor's Prize, Hertford Art Society Open Exhibition.
Galerie du Lycée Gabriel Fauré, Foix, Ariege, France (2016)
St. Edmund Hall, Oxford (2009)
Galerie Art Present, Rue Quincampoix, Beaubourg, Paris (2007)
Gallery 27, Cork Street, Mayfair (2005)
Oxmarket Gallery, Chichester (2005)
65th
Salon International
de Pont de Cheruy (2019)
67th Hertford Art Society Open Exhibition (2019)
Salon Arts-inter's "Grand prix International des Createurs du Siecle", at the Palais Bondy, Lyon (2017)
Salon International des Arts, Zillisheim, Alsace (2017)
Salon D'Art du Colombier, St. Arnoult-en-Yvelines (2005-7, 2010, 2017)
St George's Sculpture Project Exhibition, Perth, Australia (2009)
Sculpture in Paradise, Chichester Festivities (2004-5, 2010)
Limehouse Gallery, London, Summer and Winter Shows (2009-10)
Hertford Art Society Open Exhibition (2010-11)
Encounters Exhibition, Hatfield House (2008)
CLA Game Fair, Blenheim Palace, Oxon (2008)
London International Horse Show, Olympia, London (2007)
Newnham Paddox Art Park, Warwickshire (2006)
The Chelsea Flower Show (1994-2004)
Hampton Court Flower Show (1993-2003)
Journees des Plantes , Chateau de Courson, France (1999-2000)
Galleries currently exhibiting work
Jeremy Barlow Fine Art, Saxlingham, Holt, Norfolk.
Talks, Demonstrations, Workshops
Numerous to schools and societies.
The Myth of the Artist qv (The Salisbury Review 2005).
Sculpting St. Edmund (Quad 2019)
The Medium isn't the the Message (The Jackdaw 2019)
Reconstructing Notre Dame (The Jackdaw 2019)
Easel Words (The Jackdaw 2019)
Educational qualification
MA (Oxon) English Language & Literature
And on a less formal note -
I was educated at Hertford Grammar School and St. Edmund Hall, Oxford. Between these two I went to art school – but left after a week. Following Oxford, I joined the family farming business and started to sculpt in my spare time. Eventually someone suggested that I sell my work through craft fairs, where fortunately I attended one attached to the Hampton Court Flower Show. The following year I exhibited within the show itself, and the year after that at Chelsea. I exhibited with the Royal Horticultural Society for ten years, which introduced me to the commissioning process and gave me a broad-based clientele. The rest, as they say, is history (which I have summarized above).
At this point, I suppose I should attach the obligatory "artist statement." I don't like the term, which seems to me to be pompous; nor do I like many of the statements I have seen, which are often wordy, turgid and pretentious, even when intelligible. However, I suppose it is useful to say something about one's approach and where it comes from – so here it is, call it what you will!
People tend to think of my work as "impressionistic" because of its finish, in which I wish to show the way in which the clay is worked, and also to leave its completion to the imagination of the spectator. Although I have undoubtedly been influenced by sculptors such as Rodin, Dalou, and more importantly, Daumier, the similarity is a chance one, and my greatest debt is to Michelangelo, who of course also influenced them. One of my most formative memories is standing in front of his sculpture of Evening in the Medici chapel, and wondering why it seemed to me to breathe. I think it arose from two causes; the conscious creation of internal rhythms, and instability within an essentially static pose. One of the problems of modern figurative art has been the influence of photography, which by freezing the moment has taught us how movement takes place; but it has led to an art which can be lifeless. Where movement is everything; when the attempt is to depict it at its summit, the energy is already spent. The moment before energy is released is far more powerful, and it seems to me that Michelangelo's work is full of life because he depicts potential rather than kinetic energy. Additionally, much modern art has been influenced by Primitivism, and much primitive art is static. In reacting against the classical tradition, the movement lost that sense of internal rhythm which was such an important discovery of the Renaissance.
Most of my work is to commission, and I value the artist client relationship. Over the past two hundred years, artistic freedom and "self-expression" have dominated attitudes, and artists have felt themselves to be more important than employed craftsmen. But the value of self-expression can be overestimated. As St. Chrysostom said, the human soul is like a wood-shaving, coiled round its inner emptiness. Input from others is imperative for thought to take place. Too close a proximity to one's own creation can easily prevent one seeing the wood for the trees. Artists have always known that they have to stand back from their work, and sometimes, to get a fresh perspective, they will look at it in a mirror. But there is no different perspective more revealing than the perspective of someone else. Working with others and being challenged by their ideas is a way of progressing one's own thoughts, and one which makes the relationship between artist and client supremely valuable for the artist. Were it not for that relationship, Michelangelo would not have painted the Sistine ceiling. Personally, I would not have considered undertaking many of the works which I have produced. My first love is for the human form, but it would have been a loss not to have experienced the pleasure of being an animalier.
In recent years, where I have had the good fortune to gain an increasing number of public commissions, my respect for the commissioning process has increased. I have had to relate to and interact with not just individual but community involvement, and I have become convinced that the most valuable art is a joint creation of the artist and the society in which and for which he works.