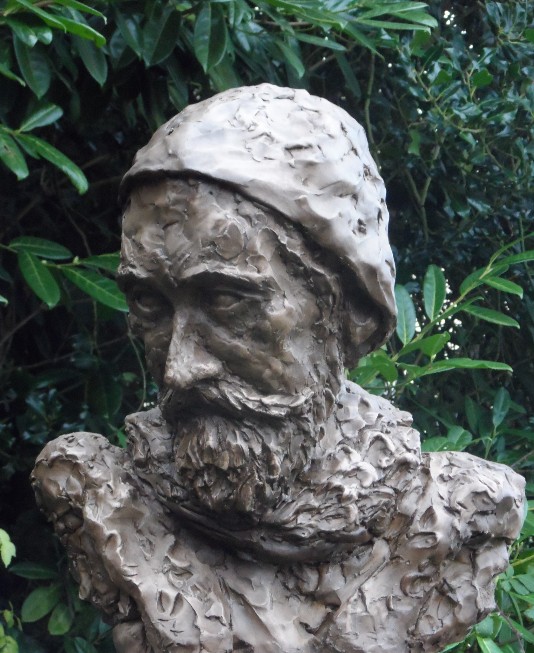 Richard Hale was one of a number of generous men who furthered English education by founding Grammar Schools, and his appearance is recorded in a contemporary portrait. I necessarily relied on this to a considerable extent in producing his bust, but I also wanted to enter into the personality of the man. This was a little difficult, because his life is not well documented beyond a few essentials; but these do tell us a considerable amount about him. He was a rich merchant born in the town of Codicote, who bought the manor of King's Walden. and who also had a house in London. He was therefore a rich Elizabethan commuter. At the age of 81, he founded Hertford Grammar School, and it is fairly certain that he was personally interested in promoting education. His granson was one of the first pupils in the school, and he later went on to become Master of Peterhouse in Cambridge University. If the grandfather was anything like the grandson, he would have been an exemplary individual, for the latter was described as "well loved by all those who came into contact with him."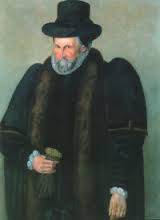 When one looks at Hale's portrait, he at first sight appears very severe. However, before producing the bust, I photographed the painting and enhanced the image. Hale then appeared dignified and serious, but also kindly, and this is what I have attempted to portray. I removed rthe hat which appears in the portrait, since I did not want simply to produce a three dimensional version of the painting, and I also felt that without it, he would appear less formal and more accessible. Beneath the hat, it seems that he was wearing a a head covering of the period which appears in numerous poirtraits, such as that of John Dee, counsellor to Elizabeth I, and indeed of Hale's grandson. I also felt it was advisable to give him some sort of covering, as we do not know whether the octogenairian would have had a full head of hair. This was probably not really a consideration, since there is only one known portrait of him, but there is always the possibility that one could be discovered, which would invalidate my representation.
The other consideration in using the painting, was that the eyebrows have an arched appearance which is typical of representations of the time, and one wonders whether they are therefore the result of artistic fashion or nature. I therefore retained an element of how they appear in the painting, whist trying to avoid the stylistic element that might exist there.